We'd like to thank you for your interest in our demos, products, services and wish you a Happy New Year!
If you can't see images in your browser, there is an updated web version available for this greeting.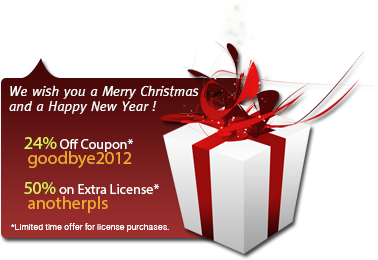 This year we released multiple new versions, integrations and updates for our video communication solutions, which can bring a great boost to your businesses, projects and startups.

These can be reviewed on VideoWhisper.com.
Follow us on Twitter or Facebook to see latest updates.
At this special occasion, we'd like to offer you a 24% discount coupon*, for a great start in next year businesses, for licenses, white labels:
goodbye2012

If you already have a license, the offer is even better, 50% off on extra license coupon* for an extra license for your next startup or business:
anotherpls
1 Domain Lifetime License
Applications
Retail
New Year Price*
Additional License*
Level 1

$250
$190
($60 off)
$125
($125 off)
Level 2
$350
$266
($84 off)
$175
($175 off)
Level 3

+ Level 2 Apps
+ Level 1 Apps

$450
$342
($108 off)
$225
($225 off)
When licensing an application or generic level for a domain multiple products and editions can be used in full mode on the licensed domain, depending on license level.
An extra (additional) license can be used to enable full mode on extra domain or all subdomains for already licensed domain. Additional license at half price offer is only valid for clients that already have a similar or higher level license.

*Discount is available for limited time, for multiple selected items and is non recurring. Promotion can be terminated at any moment this month when reaching certain volume.

Here is a quick map with our most important video communication software and services that may be useful for your existing sites or new startups:
Tip: As commercial scripts integrating our plugins are developed by 3rd party entities, also check their sites for additional seasonal offers.
Please feel free to contact us anytime for details.
Best Regards,
VideoWhisper.com Team
You are receiving this update as member of VideoWhisper.com community. You can update your details or close your account anytime and unsubscribe from all future updates.