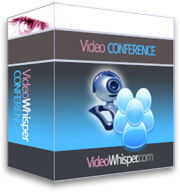 Easy installation , updates as plugin
Access setup (everybody, users, user list)
Members can be allowed to create rooms
Widget with active rooms list and entry
Menu with landing room page
BuddyPress integration
(group video conference room)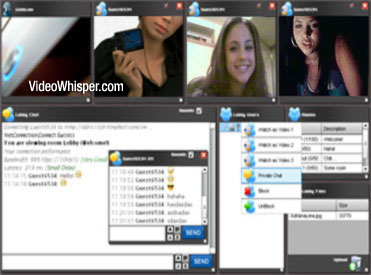 This Video Conferencing web based software can easily be used with WordPress sites to implement video conference for site users.

To test a live demo of this video conference, multi-chat and instant file sharing plugin on WordPress, just register a free account on the VideoChat Scripts site and use the widget link from the right to enter video conference.
Also see BuddyPress integration on live site LivOn Tv, by visiting a group.

Wordpress Plugin includes a widget that displays active rooms (with number of participants) and conference access link.
A Video Conference page is added to the website and can be disabled from settings.
There is a settings page with multiple parameters and permissions (what users can access - all, only members, predefined list).
BuddyPress integration: If BuddyPress is installed this will add a Video Conference tab to the group, where users can video chat realtime in group room.
VideoWhisper Video Conference is a modern web based multiple way video chat and real time file sharing tool.
This software is great for meetings, trainings, conferences, live events, recruiting, consultations, coaching and of course casual community chat. This brings people together instantly and without travel costs. These benefits open a wide range of new business opportunities and bring the extra value needed by established sites struggling to go ahead of their competitors.