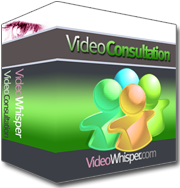 Few to Many Live Video Streaming
Moderated
(moderators select what everybody sees)
1 Main public screen:
Live Video / Slides / External stream
Unlimited additional custom screens (public/private)
Slideshow (image, video slides)
Video Slides: Record / Upload
Document Slide Import (PPT, DOC, PDF ...)
Animated Slide Annotations
Whiteboard / Comments / AV Recordings
File sharing
Toolbar to toggle panels as needed
Userlist with status and actions (click users for menu)
Snapshots generated for streaming users
P2P group streaming support
Push To Talk
100% web based for clients
VideoWhisper Video Consultation is a web based video communication solution designed for online video consultations, interactive live presentations, trainings, webinars, coaching and online collaboration.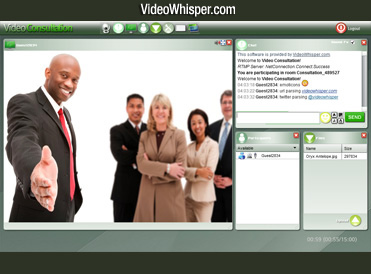 It was developed for moderated, few to many, 2 way video coferencing.
Moderators control what participant is displayed on main screen (speaker) and can also add an additional participant (inquirer) to ask questions or assist.
Participants can change their public status (i.e. request to speak), upload and download room files, text and video chat depending on setup permissions.
Find on this page: how does it work, demo, practical applications, consultation toolbar, user features, moderator features, webmaster features, publishing with flash media live encoder, screen sharing, changing layout and adding video panels, site integration, group p2p support, download free version or order.
Recommended turnkey site setup: WordPress Plugin, for easy configuration and room/user management.