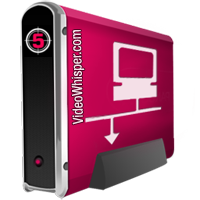 VideoWhisper server administrators can setup latest stable Wowza SE if you have a license, on your dedicated server or VPS (not recommended). This also includes installation and configuration of VideoWhisper streaming side module and application configuration. This service is provided by by trusted VideoWhisper administrators that also handle our servers and hosting plans.
Notes: Red5 and older RTMP streaming server types are no longer support a, as latest advanced HTML5 capabilities are based on Wowza SE server and latest browsers no longer support Flash for RTMP. Legacy URL was maintained as referenced documentation. HTML5 live streaming requires configuring Wowza with SSL StreamLock certificate.
Our server administrators can also provide subscription based Streaming Server Administration that includes this service.
VideoWhisper HTML5 Live Streaming Hosting Plans already include streaming server installed (with full mode license for Wowza SE) so this is not required.
Warning: Before setting up your own server, make sure it meets the hardware requirements (like bitrate, network connectivity) for expected usage volume. For quick setup, high reliability and performance, we recommend our plans and servers, specially designed with such usage in mind (network, hardware, software, configuration and administration).
For advanced capabilities implemented in turnkey site solutions like PaidVideochat or BroadcastLiveVideo, a Stream Session Control module license will also be required when using 3rd party servers.
Order Installation Service


Install Wowza SE and Configure HTML5 SSL for 350USD (requires license key and StreamLock certificate) [recommended]


Install Wowza SE for 200USD (requires license key) and you configure rest
This installation service is not required on VideoWhisper hosting plans or turnkey bundles as VideoWhisper servers are already installed and configured to meet all requirements.
Installation service does not include any software licensing (for Wowza SE or VideoWhisper software like web apps or Stream Session Control) or installation for other software.