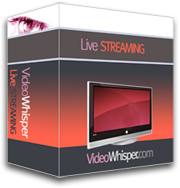 Broadcast live video from webcam, 100% web based, to multiple viewers.
1 to many 1 way video streaming

Live chat for viewers

User list with online participants
Channel title
Logo floating over video
External encoder support (desktop/mobile/IP camera)
HTML embed code to publish video channel
Tips ($) with Sound and Message
P2P group streaming support
Session timer and control with scripts
Auto-reconnect if disconnected (autopilot)
On demand archiving (recording) on Wowza
100% web based for clients
Transcoding Support for HTML5 playback
HLS iOS / MPEG DASH Android
WebRTC HTML5 broadcast/playback server support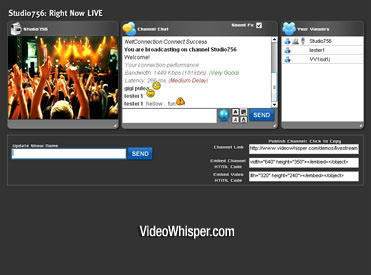 VideoWhisper Live Streaming provides web based live video streaming (from webcam or similar sources).
Live Streaming contains an web based application to broadcast video with realtime configuration of resolution, framerate, bandwidth, audio rate and also allows discussing with video subscribers. The live broadcasting application also saves snapshots of current video as images for preview purposes and provides links and html code to publish channel and preview.
We are developing this Live Webcam Video Streaming Script for all of you that want to build sites with features like on justin tv, ustream tv, mogulus, stickam, blog tv or their clones and just need the right plugin to provide this video broadcasting functionality.
Platform can also be used with external encoders (desktop, mobile or other sources). That includes Wirecast, Flash Media Live Encoder, Open Broadcaster Software, iOS GoCoder app, custom mobile apps that can be developed by Videowhisper, streams from IP cameras or other sources (based on Wowza restreaming capabilities).
Webmaster can configure watch interface and enable as needed video, chat, viewers list.
Find on this page: demo, editions & integrations, features, screen sharing, other players, recording and snapshots / thumbnails, live video streaming as service.
For a turnkey live broadcasting solution that supports unlimited channel and member management see
Broadcast Live Video
project.
Integrates ajax live channel listing, membership levels, tips for broadcasters, video archives.